A word From the Artistic Director (at home)

---
| | |
| --- | --- |
| | Hi friends! We successfully navigated a part of the chaos that the pandemic wrought for the performing arts. Our 2020 production, Habibi's Angels : Commission Impossible, was developed (over Zoom), rehearsed, and performed (in-theatre) with a full, 24-woman, team of artists and designers all the while respecting social distancing protocols and precautions. Furthermore, it was a critical and popular success! Quebec's theatres were closed on November 23rd, the day we were due to preview at La Chapelle, so we called in a 3-camera film crew, and adapted in-house surtitles to subtitles. We streamed on December the 2nd and 6th, and again, by popular demand, on December 27th and January 2nd. We are now making Habibi's Angels available to schools as streamed recordings and video on demand. This March, students at Vanier College and Concordia University will be watching. Lyne Paquette Artistic and Executive Director |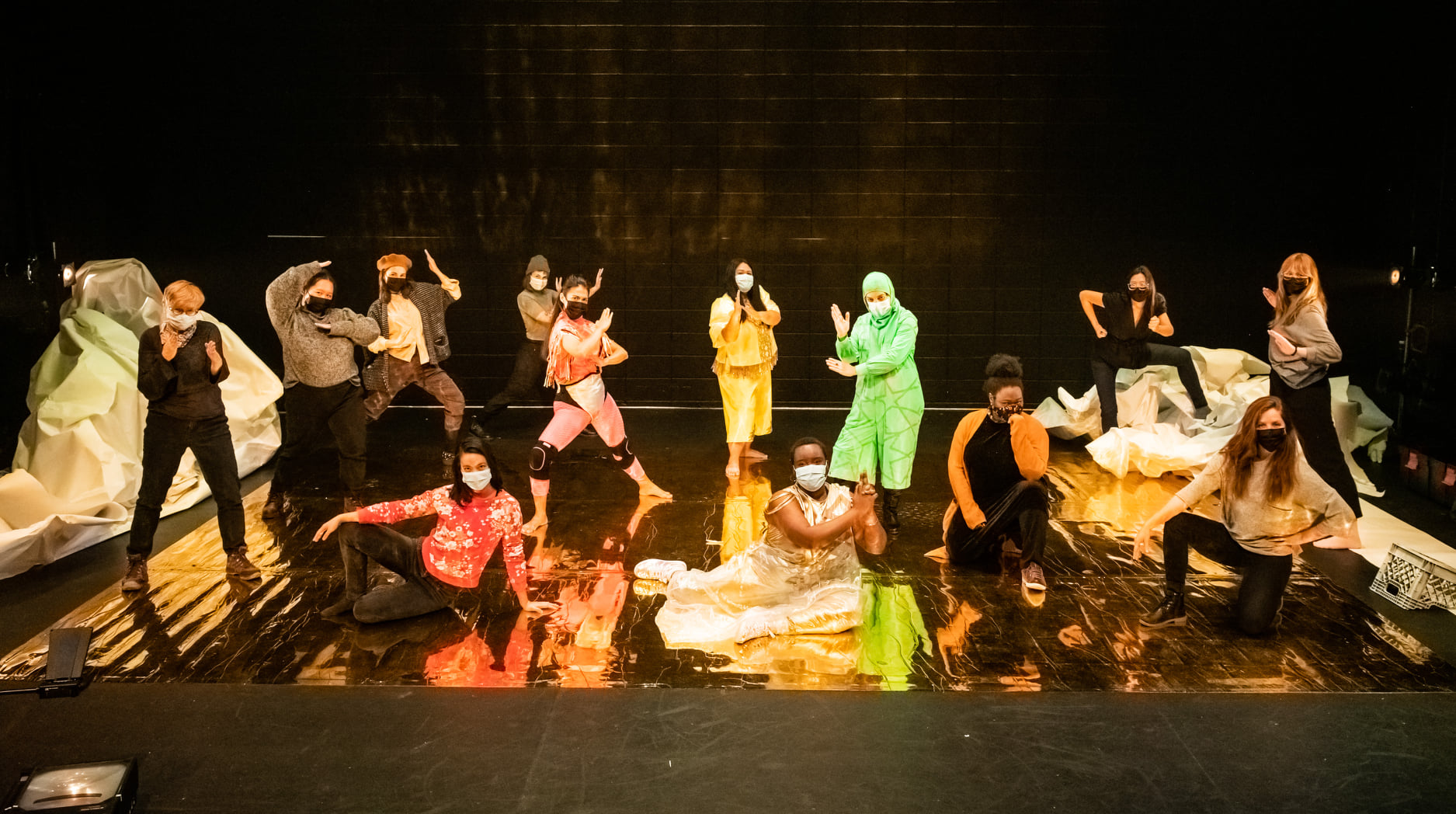 (The Habibi team)
Our next production!

---
| | |
| --- | --- |
| We are excited to report that we have received a grant from CALQ under 'Exploration et déploiement numérique - 2020-2021' to create and produce the English-language premiere of Antioch by Sarah Berthiaume and translated by Iris Cronin. This is the perfect project for a society practicing social distancing in a global pandemic! Antioch is a play about three "walled-in" women: Ines, a Syrian immigrant single mother; Jade, her first-generation Canadian daughter; and the most famous "walled-in" woman of all time - Sophocles' Antigone. This will be a binaural production, providing our public with acoustic cues to build a mental landscape. | |
A new Face on the Board

---
| | |
| --- | --- |
| | Paul Chambers is a visual artist and lighting/stage designer. From 2008 to 2013 Paul was the technical director of Tangente: Contemporary Movement Lab. His interest and collaboration in new projects has always stimulated his artistic journey. Since 2007, notably with studio 303, he leads pedagogical workshops for artists who would like to deepen their knowledge of lighting design. Paul is also a lecturer at Concordia University since 2015 in the Contemporary Dance department and a mentor at the National Theatre School of Canada.. |
Welcome to the team!

---
| | |
| --- | --- |
| Masha Bashmakova, our new intern, is a Montreal-based theatre artist from Russia and the UAE, navigating the ways in which creative expression serves as a deep and necessary language in expressing interpersonal and social-political challenges, conflicts and empathies. Her current practice spans visual and performing arts, with a specific focus in performance, theatre directing and interdisciplinary creation. In the last few years, Masha graduated from Concordia University's Performance Creation program. | |

---

Un mot du directeur artistique (chez elle)

---
| | |
| --- | --- |
| | Salut les ami.e.s! Nous avons réussi à naviguer une part du chaos que la pandémie a provoqué pour les arts du spectacle. Notre production 2020, Habibi's Angels : Commission Impossible, a été développée (sur Zoom), répétée et jouée (au théâtre) avec une équipe complète de 24 femmes, artistes et conceptrices, tout en respectant les protocoles et les précautions de distanciation sociale. De plus, ce fut un succès critique et populaire ! Les salles de théâtre du Québec étaient fermées le 23 novembre, le jour de l'avant-première à La Chapelle. Nous avons donc fait appel à une équipe de trois caméras, et adapté les surtitres maison aux sous-titres. Nous avons diffusé en continu les 2 et 6 décembre, puis, à la demande générale, les 27 décembre et 2 janvier. Nous mettons maintenant Habibi's Angels à la disposition des écoles sous forme d'enregistrements en streaming et de vidéo sur demande. En mars, les étudiants du Collège Vanier et de l'Université Concordia seront à l'écoute. Lyne Paquette Directrice artistique et exécutif |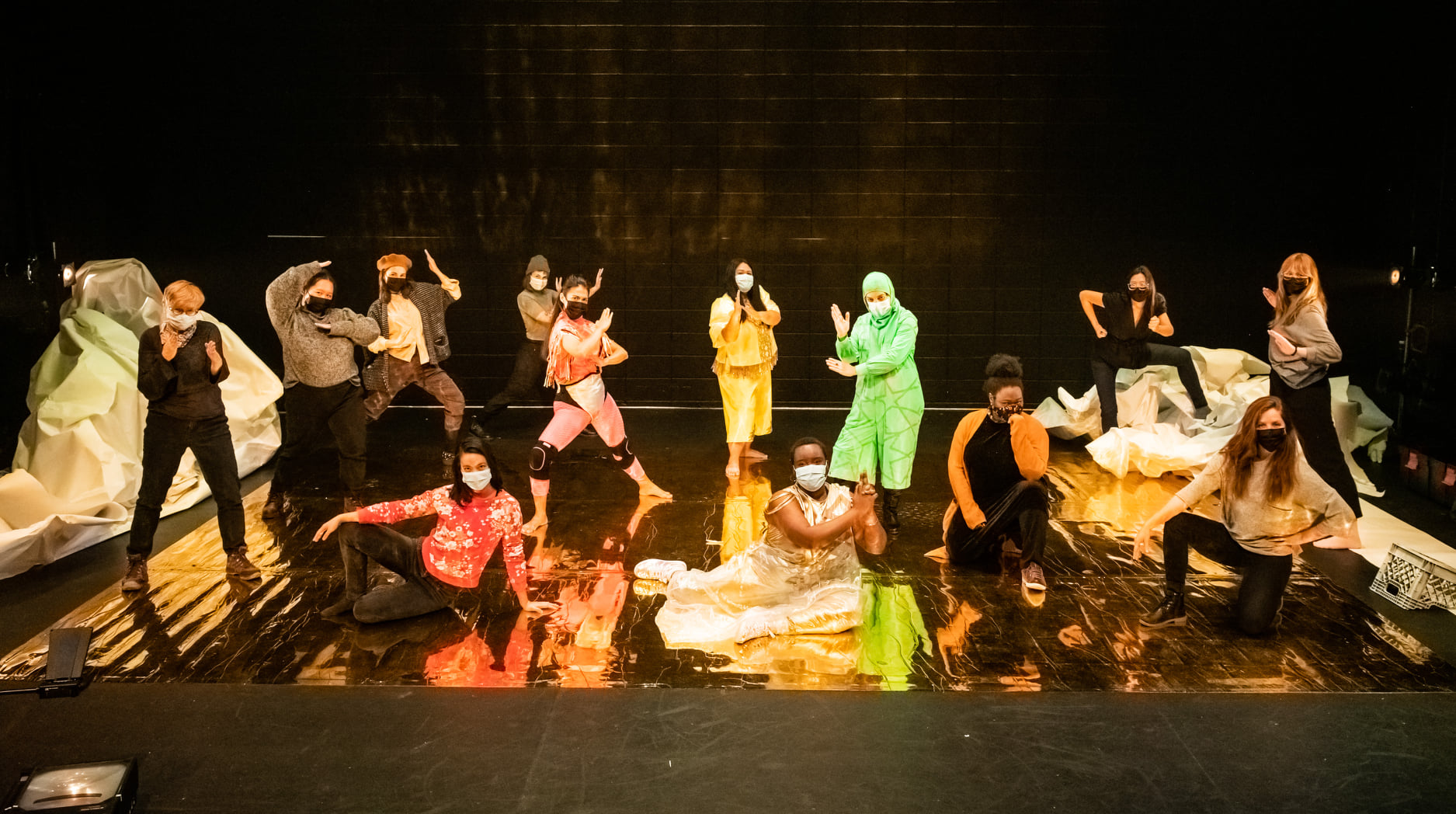 (L'équipe Habibi)
Notre prochain spectacle !

---
| | |
| --- | --- |
| Nous sommes ravis d'annoncer que nous avons reçu une subvention du CALQ dans le cadre du programme "Exploration et déploiement numérique - 2020-2021" pour créer et produire la première en langue anglaise de Antioch de Sarah Berthiaume et traduit par Iris Cronin. C'est le projet parfait pour une société qui pratique la distanciation sociale dans une pandémie mondiale ! Antioch est une pièce sur trois femmes "emmurées" : Ines, une mère célibataire immigrante syrienne ; Jade, sa fille canadienne de première génération ; et la femme "emmurée" la plus célèbre de tous les temps - Antigone de Sophocle. Il s'agira d'une production binaurale, qui fournira à notre public des repères acoustiques pour construire un paysage mental. | |
Un nouveau visage au sein du Conseil

---
| | |
| --- | --- |
| | Paul Chambers est artiste visuel et concepteur lumière/scénique. De 2008 à 2013 Paul assume la direction technique de Tangente : Laboratoire de mouvements contemporains. Son intérêt et sa collaboration à de nouveaux projets ont toujours stimulé son parcours artistique. Depuis 2007, notamment avec le studio 303, il anime des ateliers pédagogiques destinés aux artistes qui voudraient approfondir leurs connaissances sur la conception lumière. Paul est aussi chargé de cours à l'Université Concordia depuis 2015 dans le département de Danse Contemporaine et il est mentor à l'École Nationale de Théâtre du Canada. |
Bienvenue dans l'équipe !

---
| | |
| --- | --- |
| Masha Bashmakova, notre nouvelle stagiaire, est une artiste de théâtre basée à Montréal, originaire de Russie et des Émirats arabes unis. Elle explore les façons dont l'expression créative sert de langage profond et nécessaire pour exprimer les défis interpersonnels et sociopolitiques, les conflits et les empathies. Sa pratique actuelle couvre les arts visuels et les arts de la scène, avec un accent particulier sur la performance, la mise en scène de théâtre et la création interdisciplinaire. Au cours des dernières années, Masha a obtenu son diplôme du programme de création performative de l'Université Concordia. | |

---