| | |
| --- | --- |
| | Hi! I'm Lyne Paquette, the Artistic Director of Talisman Theatre bringing you our winter news. |
FOUND IN TRANSLATION Fundraising Event

---
On February 21, 2019, Talisman will host our 2019 fundraising event! Featuring an address by our special guest of honour Kim Thúy, this elegant soirée promises to be an evening you won't want to miss! Born in Saigon in 1968, Kim Thúy left Vietnam with the boat people at the age of ten and settled with her family in Quebec. She is the author of six books, from Ru, her critically acclaimed literary debut, to a unique and personal cookbook, Secrets from My Vietnamese Kitchen.

The event will be held at the Conseil des Arts de Montréal, in the beautiful Édifice Gaston-Miron, and will also feature an auction, and a short show exploring Talisman's past translations. Hors d'oeuvres will be served with wine graciously provided by the SAQ. Tickets are available now through CanadaHelps, click here.
Clean Slate rehearsals begin

---
| | |
| --- | --- |
| Leslie Baker and our wonderful cast are looking forward to getting our production of Clean Slate up and running in first weekend of February. The cast will dive into the material using Leslie's highly physical Viewpoints-based technique. We would also like to welcome Michelle Langlois-Fequet to the ensemble! Tickets can be purchased now through the La Chapelle box office, click here. | |
The translation team for Midnight returns from Louisiana!

---
This month, Artistic Director Lyne Paquette, along with author Marie-Hélène Larose-Truchon, translator Alexis Diamond, and director Emma Tibaldo, had the amazing opportunity to visit New Orleans, Louisiana, to workshop and present Talisman's translation of Midnight at the Southern Rep Theatre as part of a cultural exchange initiative.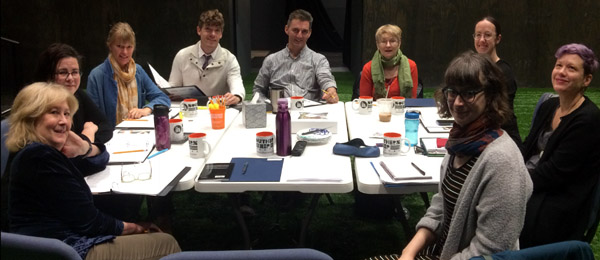 From L-R : Liann Patterson (Grandma), Ann Mahoney (Midnight), Sarah Durn (Girl), Andrew Farrier (Angel/Knight), Casey Groves (electrician), Lyne Paquette, Helen Jaksch (Stage Manager), Emma Tibaldo (Director), Alexis Diamond (translator). Photo :Marie-Helene Larose Truchon.

This new setting allowed the team a chance to explore the resonance of this unique play. Highlights of the trip included exploring the city and experiencing the vibrant Cajun culture of New Orleans, and closing the trip with a public reading of Midnight presented by some talented local actors. Talisman is immensely grateful to Aimée Hayes and the amazing team at Southern Rep for the invitation and the warm welcome.

Welcome Catherine, our new Board member!
---
| | |
| --- | --- |
| | Catherine Doyle holds a Bachelor of Journalism, with Combined Honours in Political Science, as well as a Bachelor of Arts, from Carleton University. She has experience in corporate communications, media relations, internal communications and government relations. She has worked in some of the most highly regulated industries, where she has managed public affairs campaigns, provided strategic advice and developed messaging on issues on ranging from anti-doping in sports, corporate transformation projects, and emerging regulations. |

---

| | |
| --- | --- |
| | Salut! Je suis Lyne Paquette, Directrice artistique du Talisman Théâtre, qui vous présente nos nouvelles hivernales. |
Soirée bénéfice PERLES DE TRADUCTION

---
C'est le 21 février 2019 que se tiendra notre événement de collecte de fonds de 2019. Avec une allocution de notre spéciale invitée d'honneur Kim Thúy, c'est une soirée à ne pas manquer! Née à Saïgon en 1968, Kim Thúy a quitté le Vietnam avec les boat people à l'âge de dix ans et s'est installée avec sa famille au Québec. De son premier livre « Ru », acclamé par la critique, à un livre de recettes uniques et personnelles « Secrets from My Vietnamese Kitchen ». Elle est l'auteure de six livres.

L'événement aura lieu au Conseil des Arts de Montréal, dans le magnifique Édifice Gaston-Miron, et comportera une vente aux enchères ainsi qu'un court spectacle explorant les traductions passées de Talisman. Des bouchées seront servies accompagnées de vin, gracieuseté de la SAQ. Les billets sont disponibles dès maintenant auprès de CanadaHelps, cliquez ici.
Début des répétitions de Clean Slate

---
| | |
| --- | --- |
| Leslie Baker et notre distribution exceptionnelle sont impatients de commencer à travailler sur notre production Clean Slate. Les répétitions débuteront le premier week-end de février, alors que l'équipe plongera dans la création en expérimentant la technique extrêmement physique de Leslie, la méthode « viewpoints ». Nous souhaitons la bienvenue à Michelle Langlois-Fequet au sein de l'équipe! Les billets peuvent être achetés dès maintenant à la billetterie de La Chapelle, cliquez ici. | |
L'équipe de traduction de Midnight revient de la Louisiane!

---
Ce mois-ci, la directrice artistique Lyne Paquette, l'auteure Marie-Hélène Larose-Truchon, la traductrice Alexis Diamond, ainsi que la metteure en scène Emma Tibaldo, se sont rendues à la Nouvelle-Orléans, en Louisiane, pour y donner un atelier et présenter la traduction de Talisman, Midnight au Southern Rep Theatre dans le cadre d'une initiative d'échange culturel.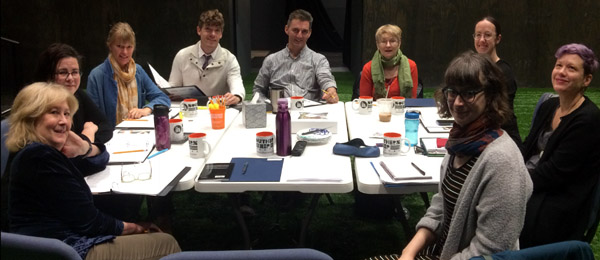 De G-D : Liann Patterson (Grandma), Ann Mahoney (Midnight), Sarah Durn (Girl), Andrew Farrier (Angel/Knight), Casey Groves (Electrician), Lyne Paquette (Directrice artistique), Helen Jaksch (Régie), Emma Tibaldo (Metteure en scène), Alexis Diamond (Traductrice). Photo :Marie-Helene Larose Truchon.


Cela a permis à l'équipe d'explorer la résonance de cette pièce unique. Dans les points forts de ce voyage retenons l'exploration de la ville et l'expérience de la culture cajun de la Nouvelle-Orléans. Le voyage se clôturait par une lecture publique de Midnight présentée par de talentueux acteurs locaux. Talisman tient à infiniment remercier Aimée Hayes et la formidable équipe de Southern Rep pour leur invitation et leur accueil chaleureux.

Bienvenue Catherine, notre nouveau membre du C.A.!
---
| | |
| --- | --- |
| | Catherine Doyle est titulaire d'un baccalauréat en journalisme avec spécialisation en sciences politiques et un baccalauréat en arts, de l'Université Carleton. Elle a de l'expérience en communications d'entreprise, en relations avec les médias, en communications internes et en relations gouvernementales. Elle a travaillé dans certains des secteurs industriels les plus règlementés où elle était responsable des campagnes d'affaires publiques, de la mise en œuvre de stratégies et de l'élaboration de messages portant sur l'antidopage dans le monde des sports, des projets de transformation d'entreprise et des nouvelles règlementations. |