| | |
| --- | --- |
| | Hi! I'm Lyne Paquette, the Artistic Director of Talisman Theatre bringing you our Fall news! |
Our 2019 Fundraising campaign begins

---
Our 2020 fundraising event, 'Culture in Translation', will have open bar, fingerfood, excerpts from Talisman Plays, auctions and, as our guest of honour, Martha Wainwright! There will be lots of time to network. Last year was a blast. Reserve this date in your agenda now: Wednesday February 19, 2020.

We can't keep making award-winning art (see below) without your support. Our annual fundraising campaign is under way. Please follow this link to make a donation at CanadaHelps

This year Talisman was selected by Artvest who will match all sponsorships dollar-for-dollar. Talisman staff also receive a one year training in sponsorship development with local small businesses. A great initiative from Business/arts via the Mentorcity platform. Contact us (see below) to arrange sponsorships.
Clean Slate a META winner!

---
Talisman Theatre came home from the award ceremony with a META prize for Clean Slate. Our cast of seven were awarded 'Outstanding Ensemble' for their fabulous collective work on stage. Congradulations to Cleopatra Boudreau, Christian Daoust, Rebecca Gibian, Michelle Langlois-Fequet, Gita Miller (not in photo), Kathleen Stavert & Julie Trépanier and all the other META nominees!!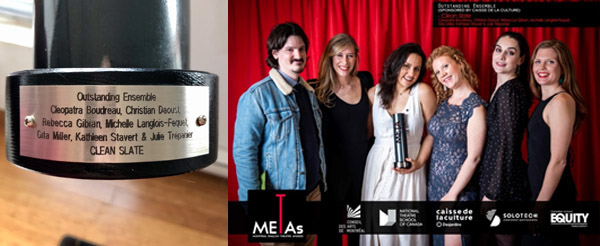 Photo: Talia Dezcö
Clean Slate reading at Concordia

---
Given the buzz of the seven META nominations, Talisman partnered with CAST and LTAC to present a public reading of Clean Slate at Concordia University. The talkback that followed the reading was very insightful for the Theatre and Translation students that attended. Talisman shared the behind-the-scenes creative process: translation support from PWM's programs, the viewpoints approach, costume design inspirations, etc.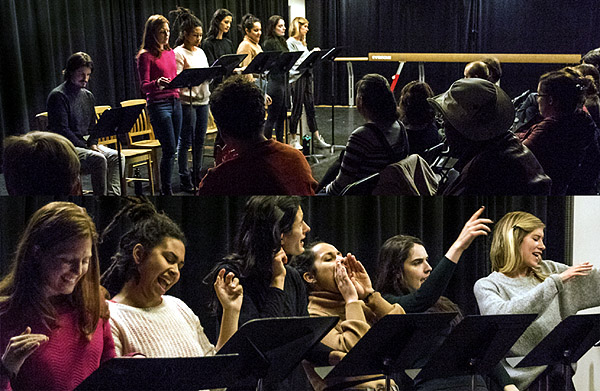 L to r: Julie Trépanier, Jasmine Bouchardy, Burcu Emec, Cleopatra Boudreau, Michelle Langlois-Fequet, and Rebecca Gibian. Photos: Louise Verdone
Public readings of Gametes at PWM and McGill

---
We presented two readings of Gametes by Rebecca Desraspe in a recent translation by Leanna Brodie. This play depicts two friends who have been inseparable since their early childhood. Both are career women driven by a burning desire to be successful, and feel fulfilled--but biology complicates their lives. Professor Erin Hurly of McGill University welcomed us to her feminist and LGBTQ theatre class. We are excited to be creating new links with our local universities.


L to r: Jasmine Bouchardy, Stephanie Breton (middle: director Inés Adán)

---

| | |
| --- | --- |
| | Salut! Je suis Lyne Paquette, la directrice artistique du Talisman Théâtre, je vous présente l'infolettre d'automne! |
Notre campagne de financement 2019 commence

---
Notre soirée «Culture en traduction» en 2020 débutera avec un échange avec notre invitée d'honneur Martha Wainwright. Suivront de courts extraits de textes de nos productions antérieures, une vente aux enchères et beaucoup de temps pour faire du réseautage tout en profitant du bar ouvert gracieuseté de notre commanditaire la SAQ.

Nous pourrons continuer à créer des œuvres primées (voir ci-dessous) avec votre soutien. Notre campagne annuelle de financement est en cours. Veuillez suivre ce lien pour faire un don à CanaDon

Cette année, Talisman Théâtre a été retenue par Artvest, qui nous offrira des fonds de contrepartie pour chacune de nos commandites. Notre équipe bénéficiera d'une formation sur un an pour développer les relations avec les petites entreprises locales de notre réseau. Une belle initiative du monde Arts/ Affaires via la plateforme Mentorcity. Contactez-nous (voir ci-dessous) pour organiser des commandites.
Clean Slate, récipiendaire d'un META!

---
Le théâtre Talisman est rentré de la cérémonie de remise des prix avec un META pour Clean Slate. Notre distribution de sept interprètes s'est méritée le prix "Meilleur Ensemble" pour son fabuleux travail collectif sur scène. Félicitations à Cléopâtre Boudreau, à Christian Daoust, à Rebecca Gibian, à Michelle Langlois-Fequet, à Gita Miller (pas sur la photo), à Kathleen Stavert et Julie Trépanier et à tous les autres nominés des METAs !!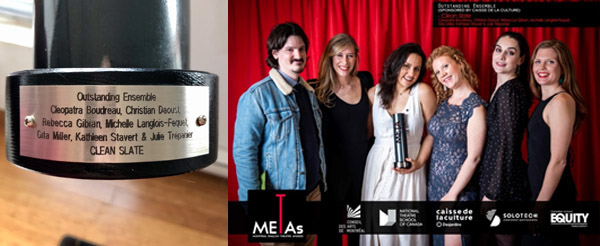 Photo: Talia Dezcö
Clean Slate en lecture publique à Concordia

---
Talisman s'est associé à CAST et à LTAC pour présenter une lecture publique de Clean Slate à l'Université Concordia. La rencontre avec les artistes qui a suivi fut très instructive pour les étudiants en théâtre et en traduction. Talisman a partagé son processus de création (collaboration avec PWM et ses programmes de traduction, technique viewpoints, les inspirations de la conception de costumes, etc.).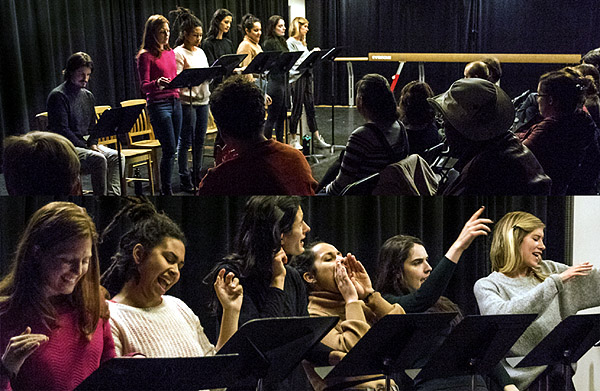 G à d: Julie Trépanier, Jasmine Bouchardy, Burcu Emec, Cleopatra Boudreau, Michelle Langlois-Fequet, and Rebecca Gibian. Photos: Louise Verdone
Lectures publiques de Gametes chez PWM et à McGill

---
Nous avons présenté deux lectures de Gametes par Rebecca Desraspe dans une traduction de Leanna Brodie. Cette pièce met en scène deux amies inséparables depuis leur plus tendre enfance. Toutes deux sont des femmes de carrière animées par un désir ardent de réussir et qui se sentent épanouies - mais la biologie leur complique la vie. La professeure Erin Hurley de l'Université McGill nous a accueillis dans sa classe de théâtre féministe et LGBTQ. Nous sommes ravis de créer de nouveaux liens avec nos universités locales.